Selection procedure
at Česká zbrojovka
Selecting the right candidates for the various positions at Česká zbrojovka is crucial to our development. This way we get to know you while you get to know the position, the company, and the team.
Choose a position
Take a look at the list of open positions and choose the one or ones that appeal to you the most.
Apply
Our online form makes applying seamless. For tips on how to write a great CV, see below.
Wait for a response from us
Your CV is already in our hands and we are determining if you are the right person for us. It usually doesn't take us more than 5 working days.
Personality diagnosis
After an online interview, candidates for TH positions or selected positions in production undergo a personality diagnosis. There's nothing to worry about, just be yourself.
Come and see us
As part of the selection process, we offer you the opportunity to take a look at your future workplace. You will find out where you will be sitting, meet your future colleagues, and get to know the manager.
Let's agree on the terms and conditions
We're almost there! We'll work out the last details, answer any remaining questions, and agree on a start date.
Welcome to Česká zbrojovka
Congratulations, you've passed the selection procedure. Welcome!
Go through the adaptation process
It doesn't end with your start date. In your first days with us, you'll go through an adaptation process that will familiarize you with Česká zbrojovka and your position and give you the information you need to get you started.
How to write
a CV
Be honest 
In your CV, state everything as it really is. Describe the history of all your work experiences in the order that they happened. When we interview, we especially want to get to know you; an honest and truthful CV is a great start.
Be thorough
Everyone makes mistakes sometimes, but a truly carefully crafted CV always has a better chance of success. When writing, be careful of grammatical and factual errors, and be sure to include important information, including length of employment.
Be brief
A CV should include all work experience, but it is sufficient to describe the position briefly. We'll be glad to learn more details about you at the interview.
What should the CV contain?
Name and surname
Current photo 
Contact information
Educational information – studies, courses, knowledge, and anything else
Work experience
Hobbies
How to write
a cover letter
A cover letter, also known in Czech as a motivational letter, is a nice touch to your response to an advertisement. Take a look at how to write a cover letter to increase your chances of getting hired.
Be motivated
In Czech, a cover letter has motivation in its title! Prove to us that you're motivated to win the selection process.
Be specific
Link your cover letter to a specific position. Each position has a detailed description and contact details for the recruiter. Choose your salutation appropriately, describe what attracted you to the specific position and what achievements you are proud of.
Demonstrate your knowledge
Surprise us with your experience and knowledge. We'll also give you bonus points for knowledge of the company or products.
Show courage
In your letter, show courage to take on the challenges of the specific position, and don't be afraid to ask for a meeting. A healthy self-confidence is welcome!
What should a cover letter contain?
Name and surname
Correct grammar
Motivation
Maximum 200 words
Experience and knowledge
An invitation to meet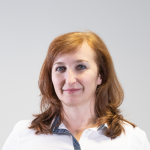 "A well-written resume is the perfect start for a dream job. Take a look at some of our tips to give you an edge over the rest."
Iva Světíková
HR Director
WE ARE LOOKING FOR
Who we are looking for