Workers' positions
Dispečer/ka skladu - Montáž
Place of work:
Uherský Brod
Field:
Výroba
Expected start:
Dohodou
I am interested in this position
About working at Zbrojovka
Pracujte v tradiční české firmě, která si zakládá na kvalitních produktech, hodnotách a péčí o své zaměstnance. 
Co bude váš denní chleba
Na této pozici budete zodpovídat především za  skladování a vychystávání materiálu, zásobování montážních linek, kontrolu měřidel, přípravků a upínačů, obsluhu automatizovaných skladových věží apod.
What you ideally meet
máte SŠ nebo vzdělání ve strojírenském oboru - výhodou;
pokud znáte naše produkty je to výhodou;
máte základní uživatelskou znalost MS Office;
znáte SAP a Syteline - výhodou;
jste samostatná, zodpovědná a spolehlivá osobnost.
What we offer you in return
zajímavé mzdové ohodnocení;
příplatky nad rámec ZP;
zaučení v dané profesi a další odborné vzdělávání;
bohatý program benefitů a zvýhodněných nabídek.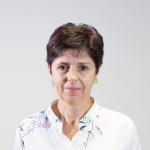 Velecká Martina
HR specialist
For the selection process for this position, Česká zbrojovka a.s. , based in Uherský Brod, Svat. Čecha 1283, Postal Code 688 01, ID No. 46345965, as the controller, will process the personal data provided by you in accordance with the General Data Protection Regulation (EU) 2016/679
show more